Community Members Speak out in Support

Clark Hilden who has been a member of the Pendleton Community for over 50 years writes to the EO urging  that now is the time to promote growth.  Highlighting that the faculty members identified by the cuts are integral members of our community, who support the local economy and programs.  He highlights the accomplishments and many of the faculty facing these cut offs and calls out current BMCC President cautioning that rather than seek ways to bring more students to college, he is giving students more reasons not to attend BMCC.  His words are moving and speak from experience.  Read Clark's letter to the editor here.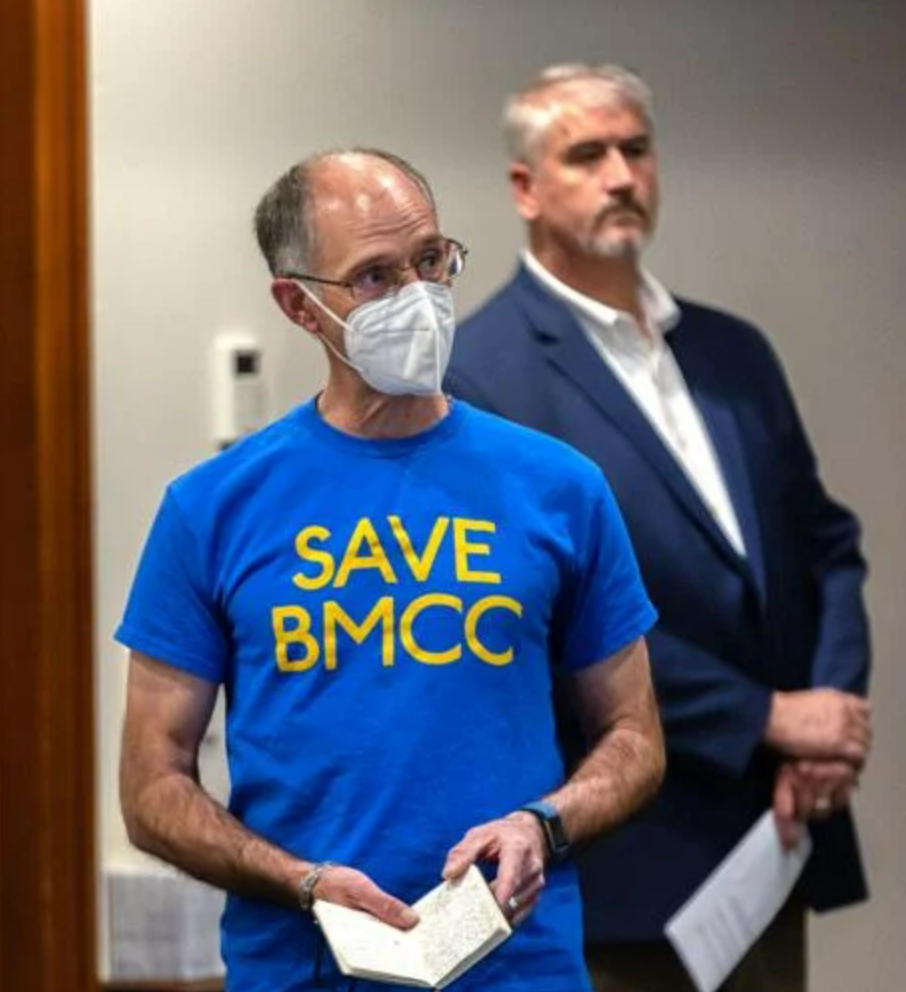 On 4/25/2020 at a presumably public meeting to approve the BMCC budget for next year, 13 faculty members requested time in advance to speak out on the issue.  Yet when faculty arrived in matching SAVE BMCC shirts, seats had not been laid out to accommodate the selected speakers. In fact the door was closed on the BMFAs vice president's face as she was directed to zoom.  A zoom meeting is not equitable or accessible by all, it does not provide opportunity to share handouts and was further complicated by the fact that the boardroom meeting mic was muted.  Several chats and verbal requests were ignored leaving any online viewers in the dark. That is not a public meeting.
But faculty were not deterred.  One by one they entered, to stand alone before the board and administration and plead their case.  Some spoke to avoid the past mistakes of BMCC history while others spoke to the data that is being misinterpreted.  Read the EO story here.
Regina Braker, a former educational administrator, also reached out for public comment.  She was taken aback by the order of operations being undertaken by this administration.  She notes Browning claimed a complete institutional review would be undertaken to make decisions, yet these decisions are preempting such a review.  She goes on to note that his vague plan, and lack of understanding regarding timeline is tantamount to malfeasance.
Read Regina's letter in its entirety here.
During the BMCC budget meeting it became public that Amazon's gift of $627K would no longer go to BMCC, due to the proposed cuts including the Integrated Systems Technology Program run out of Boardman. President Browning didn't seem phased, but considering he has remarked on more than one occasion knowing this community and serving the local workforce, it seems he is out of touch.  Read the EO story here.
Robert Hillenbrand, a former Faculty member, was moved to write and address the real problem at BMCC.  It's not a "top heavy faculty" as the administration claims, as a recent retiree and Math instructor Bob has seen the numbers across the 17 community colleges, he is familiar with the salaries across the state, and BMCC is not exceptional there.  He notes the real problem is the college administrative information system, which handles registrations, records and data processing, and challenges the college to direct its energies to fixing the root cause as opposed to cutting faculty and undervaluing the experience they bring (at a bargain price).   Read Robert's letter in its entirety here.
Shortly thereafter, Paul Davis came forward to address the primary charter of BMCC - to offer courses that would be transferable to colleges and universities and to provide vocational programs.  He urges the board to maintain the good name of BMCC and not lose sight of the founding directives.  Read his letter here.
More recently, Bobbi Napoli wrote in to praise the impact of the transfer program and urge the board to reconsider such drastic cuts to many departments that are already running on skeleton crews.  Read Bobbi's letter here.
Then on May 21st, Bette Husted a former educator wrote in to say the proposed cuts at BMCC are a threat to inclusivity and a class issue.  She doesn't buy that it's about money, community colleges get most of their funding from local revenue, this is an ongoing income in a wealthy nation such as the USA.  Read Bette's letter to the editor here.
At the end of the Month there were side by side editorials from BMCC President and Faculty Association President.  BMCC President Browning spent his time trying to debate previous claims and maintains that there are too many faculty when compared to the enrollment, yet claims that these cuts serve the students both current and future.  How can that be?  If you scale down to a pandemic size enrollment, how can you offer the diversity of classes and the quantity needed when those numbers rebound?  Meanwhile, Faculty Association President Pete Hernberg focused on the budget items, asking "If revenues are up, and the college is cutting its faculty, where is the money going?"  If revenues are up and the college is cutting its faculty, where is the money going? He goes on to identify some interesting line items, and calls to question this administration's priorities.  Read his letter in its entirety here.  These editorials echoed the concerns and perspectives these individuals shared in a THINK OUT LOUD interview.  Listen to the Radio Show recording here.
Then on Jun 1st, at the last public board meeting of the year, the faculty hosted a rally of solidarity.  Over 120 people showed up, wearing blue, carrying signs protesting these cuts, and standing up to speak out as to why BMCC, and these instructors in particular, matter.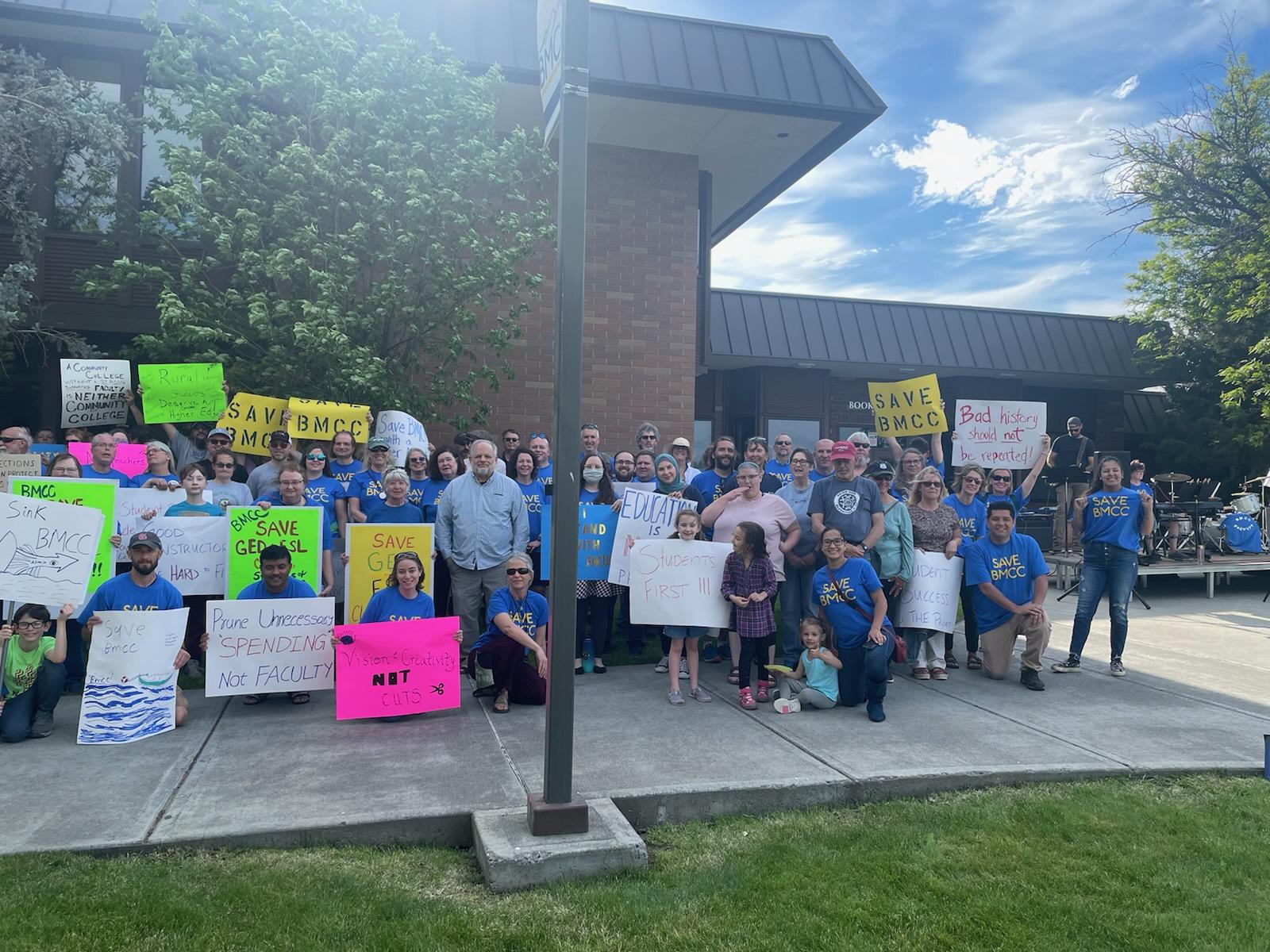 A band, formed by Dr. Margaret Mayer, among those faculty slated for layoffs, featured other faculty from computer science and math, students, and alumni.  They played a poignant set list that included "Another brick in the wall" and "Come Together".  Speakers came from varying backgrounds, alumni, k-12 educators, association representatives, the Mayor of Boardman, and Hermiston City Council members, and that was just the start.  At the board meeting, public individuals spoke up for 30 minutes sharing their unique stories and urging the board to reconsider-- to think beyond this meeting, or next.  A total of 89 students have already signed up for classes that are currently taught by instructors proposed for layoffs-- who will fill that role come September?  The board meeting spent time discussing the benefits and partnerships with dual credit programs, two of those departments are taught by faculty proposed for layoffs.  How can an ever decreasing faculty population continue to support these efforts, and students and innovate and …. the list goes on.  Read more about the Rally here.  Or Check out the OPB coverage here.
Then on Jun 6th students, faculty, alumni, and the community came together again to share some parting remarks and thoughts with the board.  Many urged caution as they spoke of institutional priorities, the fallacies in the administrative claims to offer the same courses with less faculty, and reminded the board of past arbitration wins.  Unfortunately, the board voted to accept the retrenchment (layoff) proposal.  The details of this vote are captured in both the East Oregonian and OPB.
In a follow-up letter to the editor, former Math professor Bob Hillenbrand came back with the numbers.  Other schools across Oregon dedicate 40% of their general fund to full-time instructors.  This administration proposed a budget of 12% is sufficient.  What is this administration saying about its priorities?